See What People Are Saying About Us
We work closely with our clients to satisfy their residential roofing and commercial roofing needs. We understand the problems a leaking roof can cause, not only financially but also emotionally. Mikku & Sons will work closely with you to provide a high quality job done in a timely manner. Just look at some of the testimonials below. 
Well all the good things we read and heard about this company were true. They did an excellent job on our roof. They were here when they said they would be here. They cleaned up after themselves every day. The customer service and workmanship was excellent.
I received a referral for Mikku and Sons Roofing.  Before I called them, I checked out their reviews.  Everything I heard and read about them is true!  It's so refreshing to have a contractor respond and actually complete the work as promised.  Additionally, the pricing was very fair.  I will be calling them for my future roofing needs.
This father and sons team delivered!! We were so very impressed with their honesty, work ethic and dedicated hard work!! We had received two other quotes, but because of discrepancies between the diagnosis and estimates, we call Mikku and Sons for a third opinion.

Well, they were honest and told the truth, unlike the other two companies who BOTH tried to mislead us into spending way too much!! Mikku and Sons offered us a good resolve and a fair price!!

I'll be honest, they aren't the best at communication, but their work is outstanding so it really didn't matter in the end. I'll admit at first I expected better communication (came earlier than scheduled one day, later than scheduled another day without a call), but in the end I didn't even care if they were late or early (our job required stages, so they came back on many occasions)!! I was just so grateful to have my roof fixed and my pocket book still in tact!!! I even paid them $100 more than we agreed to pay!!!

I will forever use Mikku and Sons for any roof repair and confidently recommend them to all of my family and friends!! Get them out to get an estimate BEFORE you use someone else and get ripped off or have substandard work done!!
Mikku & Sons removed & replaced 2000 SF of existing roofing in May 2017 and applied urethane foam to all areas of the flat roof.  They took their time and addressed each of the individual roofing issues including poor scupper drainage and ponding.  Very high-quality service performed by exceptional, friendly staff. Very pleased with job! Strongest recommendation!!!
I had to write this review because the gentleman that came out to price me out for a new roof went the extra mile and put some tar over a few noticeable hole because some rain was coming, that's awesome and great service. Thank you again.
I selected Mikku and Sons to reroof a concrete tile roof on my home in North Scottsdale.  Mikku and Sons came in with a bid a couple thousand less than a few higher profile groups.  Most reviews on several sites are positive, so I contracted them for the job.  The roofers seemed to do a fine job.  The roof looks sharp and withstood the recent rains without issue.  We had a good experience with Mikku and sons.  Saved quite a bit.  I would recommend.
We can't say enough good things about this company.  We had a roof leak; Mikku and 2 other roofers came out and took a look. They all recommended full roof replacement (this is a cement tile pitched roof home that is 23 years old).  We agreed as the under-layment; some tiles; flashing; and battens all needed to be replaced. For the record…with a roof like this, old cement tiles if in good condition are stacked and re-used.  Mikku's bid was not the lowest but we felt we had chosen the correct company.  WE WERE RIGHT.  Once we were in the schedule, their team was at our home every day; on time; and worked late.  They cleaned up every day and maintained an orderly transition to the new roof. Debris was removed every few days and the post cleanup/touch-up was excellent.  The owner visited a number of times during the process and kept us updated.  We give them a 100% rating and highly recommend them as a first class, high quality company.
Mikku and Sons did an excellent job repairing our foam roof. The work was done in 3 visits over about 10 days. They called the evening before each visit giving their expected arrival time. They  arrived at the  estimated time, and did a beautiful job for a reasonable price. I would recommend them to anyone needing roofing work.
Hands down, this is the most professional, caring, hard working company with which I've ever done business. If all companies operated in such a manner, the world would be a completely different place. The work surpassed the price 10 fold. I will recommend them to anyone.
These guys were on time, worked all day, cleaned up the yard, and did excellent work on the roof at a good price.  I would use these guys again or tell my friends about them any day.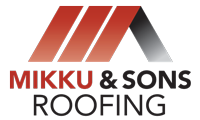 Contact Mikku & Sons for Your Free Estimate