What to look for when exploring efficient roofing options
There are several types of roofing materials or roof types that are commonly used in Arizona. The most common for pitched roofs are: tile or shingle. For flat roofs: rolled roofing systems and foam.
So what should someone look for when wanting to choose an energy-efficient roofing material? The easiest way is to look for ENERGY STAR® roofing materials. The Energy Star logo on the roofing materials packaging indicates that the product is certified to be an energy-efficient roofing material. Energy Star determines roof materials' energy efficiency by their solar reflectance and emittance.
For example, roofing energy-efficient shingles use granules that reduce the amount of heat that is transferred into the material while shingles that aren't designed to be energy efficient absorb more heat. The surface temperature difference between energy-efficient roofing material with the special granules and non-energy efficient materials can be up to 100 degrees Fahrenheit.
Another important thing to take into consideration on choosing your energy-efficient roofing material is the color. Darker colors tend to absorb the sun's energy and transmit the heat into the building below while lighter colors tend to reflect the sun more efficiently. So it is important to not only choose the color material that you like but also choose lighter tones.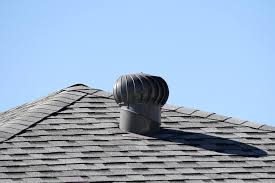 Proper Ventilation
If your roof and attic do not have the proper ventilation then it does not matter what material you use on top of the roof. Improper ventilation will negate the benefits of the energy-efficient roofing material that is used on your roof. In fact, roofing material manufacturers will automatically void material warranties if the roof/attic is not ventilated according to code.
There are many different types of vents that are used depending on the type of roof you have. Here is a roof vent calculator tool if you are wondering how many vents you need. This photo is used to illustrate what a shingle roof turbine vent looks like.  Turbine vents help increase energy efficiency by exhausting hot air from the attic.
Tips to Improve the Energy Efficiency of your Roof
We will review different energy-saving options on the common roof types of Arizona. The roof types we will cover are tile, shingle, and flat roofs. Let's explore the different energy-efficient roofing materials for each type of roof.
Tile Roofs
Tile roofs are excellent at being energy efficient when it comes to the airflow factor. There is a space between the tiles and the felt that helps promote airflow. Tile roofs are durable and last a long time. The two main ways to increase the energy efficiency of your tile roof includes extra ventilation and installing a reflective foam material on top of your felt. The material that is used commonly in Phoenix is called Radiant Barrier. This will reflect the heat and prevent it from entering the attic space. While Radiant Barrier is not considered a roofing material, it is very energy efficient! Both of these options will help you save on your monthly electricity bill!
Shingle Roofs
Shingle roofs are very common in Arizona being that they are the most economical roof on the market. Asphalt tends to get really hot in the summer in Arizona. However, the energy efficiency is lower than tile roofs. The best method of increasing the efficiency of your shingle roof is replacing the old worn out shingle with the Energy Star rated shingles (which are considered energy efficient roofing material). Also, increased ventilation or upgraded ventilation can help as well. Automatic or active vents are a great option and can be programmed to use the fan when the temperature of the attic hits a certain threshold. High-quality vents such as ridge vents also help promote proper ventilation as well.
Flat Roofs
Flat roofs in Arizona are comprised of many different materials. The most common being asphalt. Asphalt is not an energy-efficient roofing material. Coating your roof with Acrylic cool roof coatings is a great way to cool down your flat roof. Acrylic elastomeric roof coatings will seal, extend, and renew your flat roof. They will also drop the surface temperature of the roof up to 60 degrees Fahrenheit. Acrylic Elastomeric roof coatings have strong reflective qualities and are strongly recommended for restoring your old roof, reducing your energy bills, and transforming your roof into being more energy efficient.
Of These Efficient Roofing Options, What is the Best Choice Available in Arizona?
Hands down polyurethane foam roofs are the best roofs for the hot climate of Arizona and the most energy-efficient roof available. The system consists of two-part: 1-inch thick polyurethane foam and 1 to 2 coats of acrylic elastomeric coatings (we spoke already about how elastomeric coating is energy-efficient roofing material). Some of our customers at Mikku and Sons have seen their electricity bill drop by 50% after getting a new Foam Roof. Foam can be installed over pre-existing flat roofs. It is a great system that excels in insulating your home and reflecting the sun.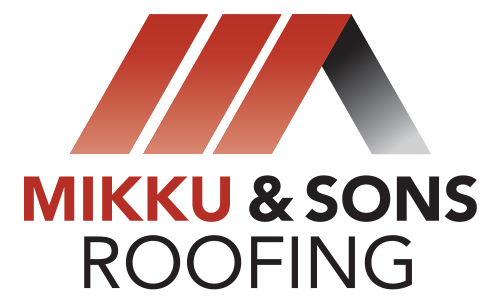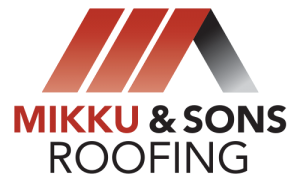 Emergency Roof Repair Contractors
Mikku and Sons Roofing has been helping residents throughout Phoenix since 2001. Our experienced and friendly crew members can inspect your roof and help you get it ready for the monsoon season to help you reduce the risk of damage. If your roof has damage from monsoon storms, we are ready to help you with quick and complete roof repair. We have experience in all types of commercial and residential roofs, including tile, shingle and flat roofs. We are fully licensed and insured and make it our mission to provide quality workmanships and exceptional service.
Call us today at (623) 465-1068 to find out how we can help you prepare your roof for the coming monsoon season or to repair it after a storm.